Earth Day with Flow MINI
April 22, 2023
MINI has a history of innovative and efficient design, and the MINI Electric Hardtop is no exception!  Join us on Earth Day to test drive a MINI Cooper SE and other fun and games.  Mark your calendar now and check back soon for time of event. 
MINIs on the Dragon
May 3-7, 2023
Flow MINI Winston is proud to be a sponsor of MINIs on the Dragon, a long-weekend event in the mountains of North Carolina.   Held the first weekend of May each year, close to 1,000 MINI owners participate.  The schedule includes many runs, meals, and gatherings and of course the Dragon run that consists of 318 curves on an 11-mile stretch of road.  Find more information about MINIs on the Dragon on their website
here
. 
Milkshake Run
June 10, 2023, 10:00 am
Join us for our 11th Annual MINI Milkshake Run! We start at the dealership for fun and games and then everyone makes a run to Cook Out for a delicious shake!  
Grand Re-Opening/Customer Appreciation Day
July 22, 2023
Look out for updates on our Grand Reopening!  We're getting a remodel and can't wait to show off our new space.  
Mini Takes Mountain Lake
Date TBD
Hosted by the MINI Club of Southwestern Virginia, many of our MINIacs participate in this annual event held at Mountain Lake Lodge and Resort.  Last year's event was held at the beginning of August, we'll update our page when the date for 2023 is announced!
mini on the mack
August 4-5, 2023
Join our very own Billy Badgett, who will be representing Flow MINI Winston at this year's MINI on the Mack! This is a huge event that culminates with a parade across the Mackinac Bridge in Mackinaw City, Michigan.  MINIacs come from all over the country and there have been over 1,300 registrations for the last 3 years running.  Help them beat the Guinness World Record for the Largest Parade of MINI Cars of 1,450!
Trunk of Treat
October 14, 2023
2pm-4pm
We welcome dozens of MINI boots and hundreds of trick or treaters every October for our annual Trunk or Treat!  Come one, come all (pets are welcome) and enjoy an afternoon of fun and games.  If you are a participating MINI owner, please arrive at 1pm for set-up.
Chicken Stew with
the MINI Crew
November 11, 2023
12:00pm
Join us for our 11th Annual Chicken Stew with the MINI Crew! Join us for delicious chicken stew, fun, and fellowship.   The Stew concludes our food drive for Second Harvest Food Bank, please bring a non-perishable food donation.
Toy Run
December 9, 2023
Each year we collect new toys for donation to the community, and on the last day of collection we gather to run them all to the donation center.  Please bring a new, unwrapped toy and  join us for a run to the donation center.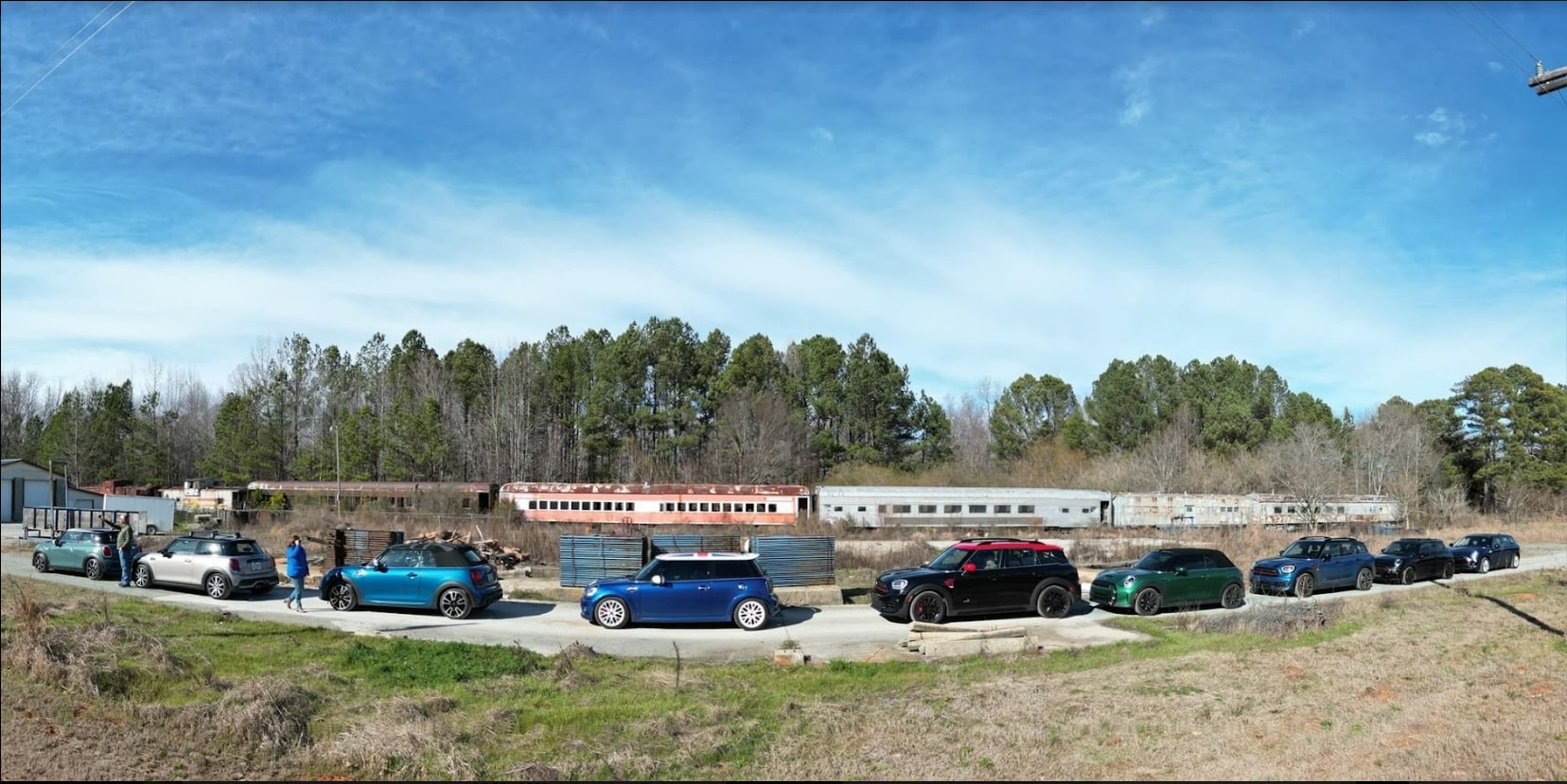 Flow MINI Breakfast for
New Years Run
January 21, 2023
Each year in January, the Tar Heel MINI Motoring Club meets at Flow MINI Winston for breakfast and then heads out for a drive.  An amazing way to start the New Year, drivers were up bright and early and enjoyed a fun run through the Uwharrie Mountains, including Troy, Star, and Badin Lake for the 2023 Run on January 21.  
These MINI journeys bring old and new friends together.  Flow MINI enjoys hosting THMMC events, as many of the MINIacs began their MINI obsession with us!  Check our events page often for more upcoming MINI runs and events.
Toys for Tots
December 10, 2022
After collecting new, unwrapped toys for
Toys for Tots
, Flow MINI, along with the Tar Heel MINI Motoring Club, joined together on Saturday, December 10 for the Toy Run.  The generosity of donations was astounding and many MINI boots were filled to the brim with toys for the less fortunate.  This year's Toy Run began at Flow MINI and ended at the local Toys for Tots headquarters.  After the toy drop off, all the MINI-acs headed out to Mocksville for a great lunch for food, fun, and fellowship.  (Notice a theme here? MINI events nearly always include food, fun and fellowship!)
10th Annual Chicken Stew with the MINI Crew
November 19, 2022
On Saturday, November 19, 2022, dozens of MINIacs got together for the 10th Annual Chicken Stew with the Flow MINI Crew. This event is held in November each year and includes a food drive to benefit Second Harvest Food Bank. We are thankful to each and every one of you for the food, fun, and fellowship. We can't wait to see you all again next year!
FLOW MINI 2ND ANNUAL
TRUNK OR TREAT
OCTOBER 22, 2022
Saturday, October 22, 2 p.m. - 4 p.m.
We will have Family Fun (we want humans and fur-babies), Games, Prizes, & Candy.
We will need trunks registered so we can plan parking accordingly.  Participants will need to arrive by 1 p.m. to set up trunks.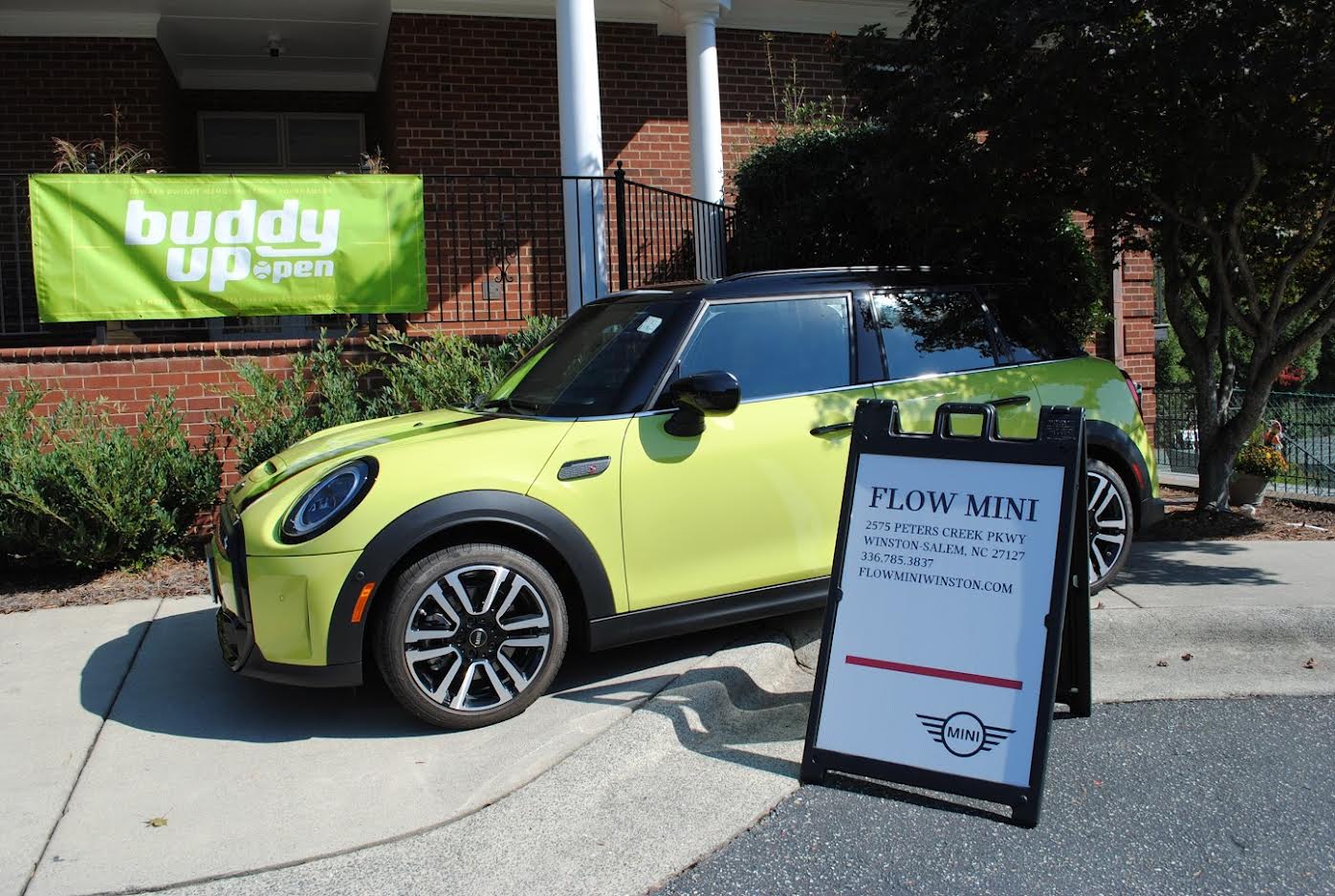 Buddy Up Open
October 15, 2022
Flow MINI Winston-Salem had the pleasure of sponsoring the Buddy Up Open this weekend, an annual fundraising event benefiting the Mental Health Association of Forsyth County.  Since its inception, the Buddy Up Open has raised more than $180,000 for the Mental Health Association in Forsyth County.  
The Buddy Up Open was founded in the fall of 2016 in honor of Edward Dwight. It is an annual event honoring Edward and benefiting the Mental Health Association of Forsyth County. Edward was a USPTA Tennis professional for over ten years and the 2001 USPTA Southern Assistant Tennis Professional of the Year. In addition to Edward being a great teacher and professional, he was an accomplished player and competitor. Tragically, he lost his lifelong battle with depression in 2014.  Buddy Up was chosen as the theme for the tournament because of Edward's use of the term "Buddy" for his friends, colleagues and students. It also recognizes the partnership between the tournament and the Mental Health Association.
The Mental Health Association in Forsyth County is a non-profit, non-governmental agency that serves our community with vital mental health services. MHA strives daily to improve access to mental health services and works to ensure equality among systems of mental health. Our support is needed for them
to continue to provide services such as:
• Support groups that help people connect to services, including crisis services
• Educational training for human service professionals and clergy
• Suicide education and mental health outreach services
• Crisis Intervention Team (CIT) training to local police and first responders
• Mental Health Treatment Court
• Mental Health 101 educational trainings through community collaboratives with local school systems and other community groups
MINI TAKES MOUNTAIN LAKE
AUGUST 4 - AUGUST 7, 2022
The MINI community came together for the 4th Annual MINIs Take Mountain Lake in Southwest Virginia in August 2022. 
With get togethers, BBQ's, bonfires, swaying roads, and great food a great time was had by all!  
Join us for our next event!
MINI Takes the States
July 9th- July 17th 2022
Mark Your Calendars!
The MINI community will reunite for the 8th edition to zig and zag parts of the country MTTS has barely touched in our 16-year history.
The route will be similar to the postponed 2020 route and as you can imagine we are busy finalizing all the details… we'll be back in touch soon. But in the meantime, mark your calendars and get ready to hit the road with MINI!
We will see you there! 
Customer Appreciation Day
March 19, 2022
Did you buy a MINI in 2021? We want to show you just how much we appreciate you.
Are you also in the Tar Heel MINI Motoring Club or the Southwest Virginia MINI Club? You are invited to join us as well!
Register today to join us on March 19th from 12 PM to 2 PM to get food from Hope Food Truck Co. Their mission is ' GIVING OUR BEST REGARDLESS OF MEANS'. We are so excited to have them at Flow MINI.
Menu:
https://hopefoodco.com/hope-truck-food-co
Donate to Hope Food Truck Co. Here:
https://hopefoodco.com/give
Flow MINI Paint Night
February 11, 2022
You Are Invited! 
February 11th @ 6-8 PM
Wine & Design Winston Salem
2235 Cloverdale Ave. 
Winston-Salem, NC 27103
SPACE IS LIMITED! Register now for a fun night of socializing and creativity with snacks served while producing a personal work of art to take home!
$20 PER PERSON 
A $47 Value- WE PAY THE REST!
Flow MINI Breakfast Run
January 15, 2022
Flow MINI presents the Breakfast Run! From 9 AM to 11 AM, January 15th, join us for Breakfast, Coffee and a fun drive! After breakfast, we will take off and leave on a quick MINI run through town. We hope to see you there!
Please note - Masks are required indoors and are optional outdoors.
Toy Drive with MINI and
The Salvation Army
The toy run may be over, but the season of giving has just begun.
Flow MINI is still accepting toys in partnership with The Salvation Army. So bring any new un-wrapped toy for any age group to Flow MINI in Winston-Salem!
Thank you for all your donations!
9th Annual Chicken Stew with the MINI Crew
Trunk-or-Treat with MINI
October 23, 2021

MINI Milkshake Run
August 14, 2021
MINI Takes Mountain Lake
August 2021
MINI Together
July 24, 2021
A one-day self-curated road trip and virtual celebration on Saturday, July 24, 2021
MINI Owners will be on the road together while being socially distanced 
Participants explore their own geographic area starting at Flow MINI
7th Annual Chicken Stew at Flow MINI
March 2, 2019
Flow MINI in Winston-Salem host its 7th Annual Chicken Stew. Experience the fun, food, and synergy of the MINI community.